EQ Partners, Inc. Develops Managers and Leaders to Corporate Transformation
EP Partners, Inc. contributes to the creation of a great Japan, Asia and the world through leadership education and development
EQ Partners was established in October 2002 with a strong desire to work with clients, stakeholders, and all other parties to provide better human resource and leadership development as "EQual Partners."
Since then, in order to focus on global human resource development not only in Japan but also in Asia, we have partnered with the National University of Singapore which has been recognized as one of the top business schools in Asia and the world. We would be happy to assist you in your global human resource and organizational development.
Custom-Made Human Resource Development Programs
【EQ Partners' Training Features】
(1) Extensive experience in developing executives and global leaders for major companies.
  (Japanese and English, domestic and overseas)
(2) Instructors are university professors with business school degrees and practical experience or experienced in corporate management and administration.
(3) Customized training content to meet the client's management issues.
(4) Post-training support for implementation, review, and retention in the workplace.

Program Structure Chart (English version)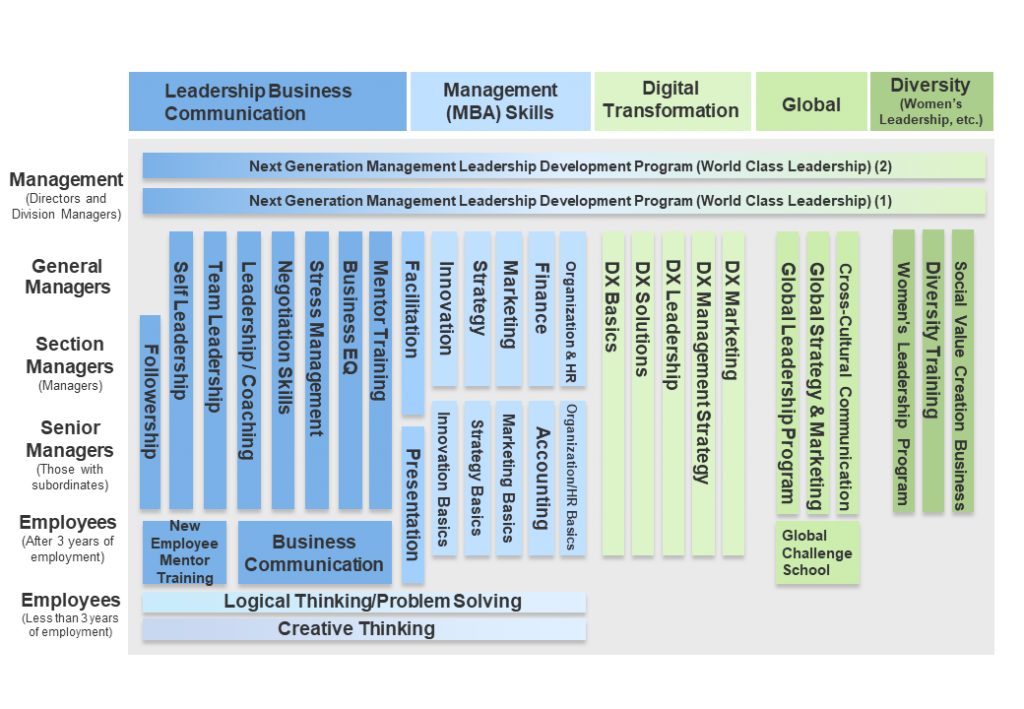 EQ Partners' Definition of Leadership
(1)Leading Oneself
(2)Leading the Team
(3)Leading the World
(4)Leading Society
It is our desire and aspiration that all people involved in all business and social activities will be able to improve the people and society around them with their own unique leadership, according to their respective positions.
Our Mission
Through our human resource development business, we will realize management for "Gohou-Yoshi"or Five-Way-Satisfaction.
"Gohou-Yoshi" means
1) Employees, members and their families
2) Suppliers, business partners, etc.
3) Customers (current and future customers)
4) Society as a whole and the socially vulnerable (people with disabilities and the socially disadvantaged)
5) Shareholders and other investors
Our Values
"Sincerity" "Enthusiasm" "Creativity"
Company Profile
Company Name
EQ Partners, Inc.
Head Office Address
Minami-Shinagawa N Building 9F, 2-2-10 Minami-Shinagawa, Shinagawa-ku, Tokyo 140-0004, Japan
(Head office has relocated as of December 23, 2019)

Contact Information
TEL:03-5463-6525
FAX:03-5463-6526
Email: eqadmin@eqpartners.com
Website
https://eqpartners.com
Date of the Establishment
October 1, 2002
Business Description
Human resource development and education business
(1) Organization and human resource development consulting business for companies
(2) Training, seminar, and coaching business for companies
(3) Courses for universities and other educational institutions
Human resource introduction business (License No. 13-Yu-3060006 issued by the Ministry of Health, Labor and Welfare)

Representative Director
Tetsuya Abe (Visiting Professor, Graduate School of Business Administration, Rikkyo University)
Main Banks
Mizuho Bank, Ginza Branch
Bank of Mitsubishi UFJ, Hiratsuka Ekimae Branch
Resona Bank, Shinagawa Branch

History
October 2002
EQ Partners Ltd. established.
October 2003
Reorganized as EQ Partners, Inc.
April 2005
Tetsuya Abe, Representative Director, became a concurrent lecturer at the graduate school of Rikkyo University (in charge of "Leadership Theory").
December 2006
Head office relocated from Ginza to Shinagawa, Shinagawa office opened.
November 2007
Tetsuya Abe, Representative Director, becomes a member of the Human Resources Development Study Group of the Vitality Research Institute.
August 2008
"1-Day MBA" article appeared in "Nikkei Associe" Web Edition.
January 2009
Held the first "Kokorozashi-juku" (a private school for the aspiring businessperson).
May 2009
Publication of the book "World Class Leadership"(Japanese)
December 2011
Publication of the book "World-Class Leadership" (English version)
October 2012
Started global training program in collaboration with National University of Singapore Business School (NUS)
November 2012
Lecture at ASTD-STADA Asia Pacific Conference (Singapore)
December 2014
Established Social Business EQ Partners Co.

January 2016
Social Business EQ Partners Co. was certified by a Muhammad Yunus Social Business Company
April 2016
Representative Tetsuya Abe appointed as a special professor at Rikkyo University Graduate School of Business Administration
July 2016
Obtained a license to engage in the recruitment business
May 2017
Publication of the book "The Spirit of a Manager" (Japanese)
April 2019
Tetsuya Abe, Representative Director, becomes a part-time lecturer at the University of the Sacred Heart
December 2019
Head office relocated (Minami Shinagawa N Building 9F, 2-2-10 Minami Shinagawa, Shinagawa-ku, Tokyo)
April 2021
Tetsuya Abe, Representative Director, becomes a visiting professor at Rikkyo University Graduate School of Business Administration
July 2021
The 100th anniversary of "Kokorozashi-juku" (a private school for the aspiring businessperson).
"Shibusawa Eiichi's Life and Leadership" was held.
February 2022
Publication of the book "The New Edition: The Spirit of a Manager" (Japanese)
March 2022
Publication of the book "World Standard Leadership"(Japanese)